Waldorf salad with Apple Syrup and Apple Butter Vinaigrette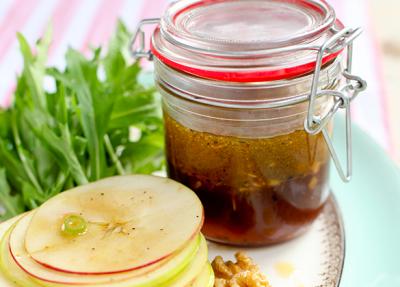 Ingredients :
1 shallot
30 ml (2 tbsp.) softened apple butter (soften in microwave for 10-20 seconds)
60 ml (1/4 cup) Apple Syrup
125 ml (1/2 cup) olive oil
125 ml (1/2 cup) nut vinegar
To taste salt and pepper
Method
1. Add all ingredients to a Mason jar. Seal. Mix well. 
Note :
• For the Waldorf salad, use a mandolin to thinly slice apples, celery and green onion. Mix with vinaigrette. Top with walnuts.
• For a creamy vinaigrette, add a touch of mayonnaise.