Apple Chips in Apple-Vanilla-Cinnamon Syrup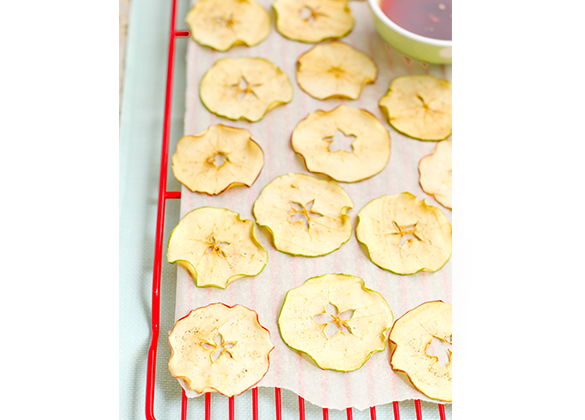 Ingredients :
250 ml ( 1 cup) Cataphard Orchards & Son inc. Apple syrup
250 ml (1 cup) water
5 ml (1 tsp.) vanilla bean paste (or one vanilla bean, split in half length-wise)
1 cinnamon stick
3 apples, sliced thinly
To taste sugar and cinnamon
Method
1. In a saucepan, bring Apple syrup, water, vanilla bean paste and cinnamon to a boil. Let boil for 5 minutes.
2. Dip apple slices in syrup. Shake to remove excess. Place on the grill of a food dehydrator.
3. Dehydrate for 4 – 6 hours. Store in a hermetically-sealed container for 7 – 10 days. 
Note :
 • An excellent snack for children. Sweet and healthy – it does exist!
• Super good in cereal, with sandwiches or salads.
• Keep your original Apple syrup for other occasions (to soak a cake, in a cream, to glaze meat, in vinaigrette, to flavour a cocktail). Nothing goes to waste!
• This recipe can also be made without a dehydrator. Put sweetened apple slices on a cookie sheet lined with parchment paper. Place in oven at the lowest setting (65-70°C /125-150°F) for 6 to 8 hours. Turn apple slices 2 – 3 times during baking.