Apple Crisp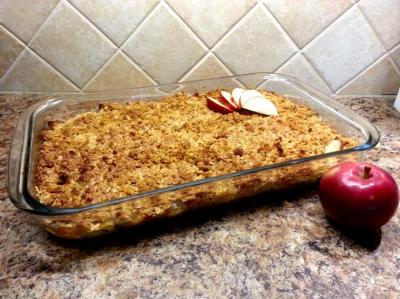 Ingredients :
14 red apples(Cortland), peeled and sliced
2 cups white flour
2 cups oatmeal (uncooked)
125 ml (1/2 cup) Cataphard Orchards Apple Syrup
1 cup brown sugar
1 cup butter
2 pinches salt
Method
To prepare the crisp mixture:
1. Combine flour, oatmeal, brown sugar, butter and salt in a bowl.
2. Mix thoroughly until all dry ingredients are well combined.
To prepare the apples:
1. Peel and slice apples.
2. Place apple slices in a large glass baking dish.
3. Drizzle with apple syrup.
4. Cover with crisp mixture. 
Baking :
Bake uncovered in a 190°C (375°F) for 35 minutes.