100% Apple Granola Bars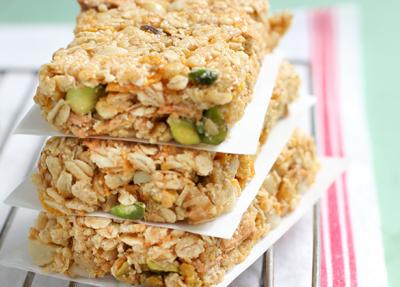 Ingredients :
250 ml (1 cup) Corn Flakes cereal
250 ml (1 cup) Rice Krispies cereal
250 ml (1 cup) oatmeal
250 ml (1 cup) dried apples, cut into small pieces
180 ml (3/4 cup) powdered milk
80 ml (1/3 cup) Cataphard Orchards & Son inc. Apple syrup
80 ml (1/3 cup) honey
60 ml (1/4 cup) macadamia nuts, coarsely chopped
60 ml (1/4 cup) pistachios, coarsely chopped
3-5 walnuts, coarsely chopped
Method
1. In a bowl, mix together all ingredients.
2. Line a rectangular 7 ½" x 11" pan with parchment paper, making sure to leave enough on the sides to cover the mixture.
3. Spread the mixture in the pan. Cover with parchment paper. With a potato masher (or some other utensil), compress the granola bar mixture.
4. Refrigerate for at least 4 hours.
5. Remove paper and cut into bars.
Note :
A quick, simple and healthy snack to make.
A great recipe for little chefs (with your supervision, of course).
You'll be so proud! Use your favourite cereals, add chocolate chips…there's no limit to what you can do!