Apple Syrup Glazed Chicken with Cider Sauce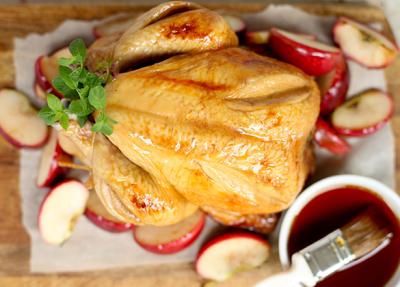 Ingredients :
1 whole chicken (2 - 3 lbs)
2 carrots, chopped
1 large onion, chopped
2 stalks Celery, chopped
3 apples, cut into halves or quarters
- oil for brushing
To taste salt and pepper
125 ml (1/2 cup) Cataphard Orchards & Son inc. Apple syrup
Sauce :
30 ml (2 tbsp.) butter
1 shallot, minced
60 ml (1/4 cup) apple cider
45 ml (3 tbsp.) Cataphard Orchards & Son inc. Apple syrup
250 ml (1 cup) veal stock
To taste salt and pepper
Method
Apple Syrup Glazed Chicken method
1. Preheat oven to 350°F.
2. Brush chicken with oil and season.
3. Cut vegetables and place them in a roasting pan. Place chicken on top of vegetables.
4. Place in oven and roast for 1.5-2 hours.
5. Baste chicken every half hour with Apple syrup. 30 minutes before it's ready, spread apple pieces around chicken.
6. Remove from oven and let stand 5 minutes before slicing.
7. During this time, retrieve cooking juices and mix with Apple syrup.
8. Serve with cooked apples, celeriac mash and sauce. 
Cider Sauce method
1. In a non-stick pan, melt butter. Sweat shallot for 2 – 3 minutes. Deglaze with cider. Add syrup and pour in veal stock. Reduce until desired consistency.
2. Serve immediately.
Note :
• For a softer, creamier texture, add a bit of 35% cream to the sauce.
• TIP: For crispier skin, separate the chicken skin from the breast meat by carefully sliding your fingers in between. Spread butter under the skin and cook as explained above.
• Flavour your butter with Apple syrup (see turkey recipe), lemon zest, sundried tomatoes, honey, tarragon, minced garlic, etc.