Apple Syrup Poached Apples with Vanilla and Ginger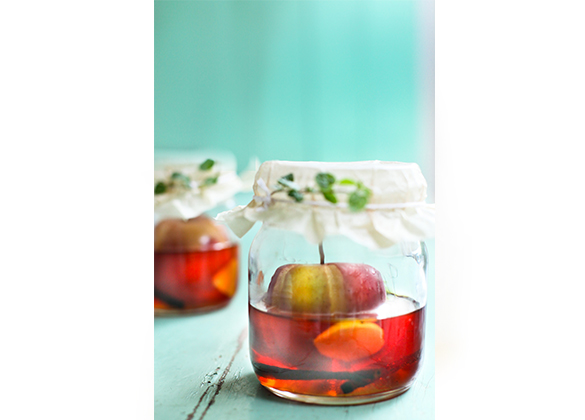 Ingredients :
4 Cortland or Empire apples
250 ml (1 cup) Cataphard Orchards Apple Syrup
250 ml (1 cup) water
2 beans Vanilla, cut in half
1 inch fresh ginger, peeled and sliced
Method
1. Combine apple syrup, water, vanilla paste and ginger in a pot. Bring to a boil and leave for 5 minutes.
2. With a large zester, make notches in the apples.
3. Place each apple in a Mason jar (or any other glass container).
4. Pour the syrup mixture into the jars. Add a piece of vanilla and some ginger slices.
5. Cover with parchment paper. Secure with kitchen string.
6. Preheat oven to 180°C (350°F). When ready, bake apples for 20 to 25 minutes.
7. Remove apples from oven. Let cool.
8. Serve with or without syrup…with or without ice cream…on or under a slice of cake…with or without granola or ground nuts…
Note :
• Absolutely delectable with cinnamon ice cream. To prepare: remove vanilla ice cream from freezer and set out for 30 minutes. Add ground cinnamon to taste. Mix well. Return to freezer until required.
• A chic and elegant dessert! Not only is it simple to make, it looks as delicious and elegant as it tastes…you can't go wrong!
• Keep the unused apple syrup to use another time (to infuse a cake, in a cream, to marinate meat, in a vinaigrette, in a cocktail…) Waste not, want not, as they say!