Asian Pork Tenderloin with Hoisin-Cataphard apples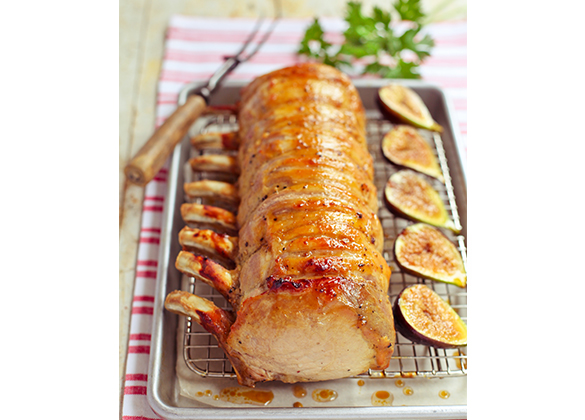 Ingredients :
2 x 1 L (2 x 450 g) pork tenderloin, trimmed
15 ml (1 tbsp.) vegetable oil
2 apples, cut into 3 sections
Marinade :
250 ml (1 cup) rice vinegar
125 ml (1/2 cup) Hoisin sauce
80 ml (1/3 cup) Cataphard Orchards & Son inc. Apple syrup
4 pressed garlic cloves
1 one-inch piece of ginger root, peeled and sliced
10 ml (2 tsp.) grated fresh ginger (or 2 cubes of frozen ginger)
5 ml (1 tsp.) sesame oil
3-4 sprigs fresh coriander
1 - 2 star anis
To taste salt and pepper
Topping :
80 ml (1/3 tasse) Cataphard Orchards & Son inc. Apple syrup
80 ml (1/3 tasse) Hoisin sauce
Method
1. In a sealed bag, add all marinade ingredients. Mix well. Add pork tenderloin. Seal the bag and set aside for 2 to 12 hours.
2. Mix glaze ingredients together. Set aside. (Can be prepared in advance. Refrigerate).
3. Preheat the oven to 180°C (350°F).
4. Pat tenderloin dry to remove excess marinade.
5. Line a cookie sheet with parchment paper and place apple slices.
6. In a non-stick skillet, heat oil. Sear the pork on all sides and place on top of apple slices. Brush with glaze. Put sheet in oven and cook for 15 minutes.
7. Remove pork from oven and brush again with glaze. Cover with aluminum foil and set aside for 5 to 10 minutes.
8. Slice and serve with the remaining roasted apples and glaze. 
Note :
For a quick sauce, boil marinade for 5 minutes or until the desired texture. Delicious!