Grilled Peach Salad with Rosemary-Prosciutto and Apple Syrup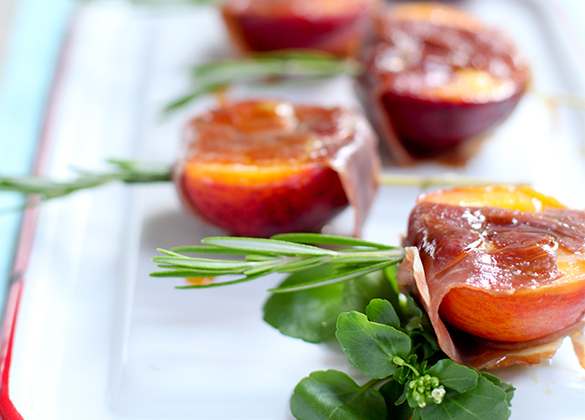 Ingredients :
4 peaches, pitted and cut into halves
60 ml (1/4 cup) Cataphard Orchards & Son inc. Apple syrup
8 slices thinly-sliced prosciutto
8 sprigs Rosemary (remove some leaves to use as a skewer)
Method
1. Take the peach halves and brush them with syrup. Roll each in a slice of prosciutto. Secure with a sprig of rosemary.
2. In a non-stick frying pan, brown each side for 2 – 3 minutes.
3. Serve on a bed of lettuce and drizzle with apple syrup. 
Note :
 • An excellent complement to grilled meats (beef, lamb, poultry, fish, seafood…).
• Don't overcook the fruit – let it remain firm.
• The sweetness of the peaches and syrup mixed with the saltiness of the prosciutto is a divine taste combination!