Grilled Vegetables and Mozzarina Trio in Apple Syrup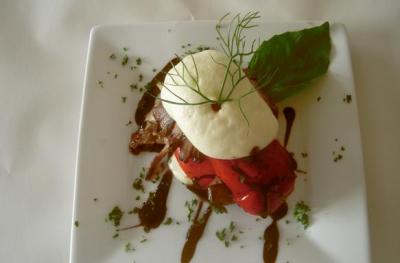 Ingredients :
2 red sweet peppers
2 green sweet peppers
200 g oyster mushrooms
1 medium-sized eggplant
2 Mozzarina cheeses
4-5 fresh basil leaves, grossly chopped
100 ml Cataphard Orchards Apple Syrup
3 tbsp extra virgin olive oil
To taste salt and pepper
Method
1. Prepare the vegetables: cut sweet peppers into eight quarters. Remove seeds. Slice eggplant into 1-cm rounds. Grill.
2. Combine olive oil, basil and half of the apple syrup. Season with salt and pepper. Cover grilled vegetables with this emulsified mixture and marinate.
3. Cut Mozzarina cheese into approximately 2-cm slices.
4. Preheat oven to 400°F.
5. Build a pyramid beginning with the eggplant, then peppers, a slice of Mozzarina, and mushrooms. Finish with a second slice of Mozzarina. Secure with a wooden skewer.
6. Put into oven for approximately 4 minutes. Watch that the cheese does not melt.
7. Serve hot, drizzling the remaining apple syrup over top at the last minute.