Rack of Pork with Mustard, Apple Syrup and Thyme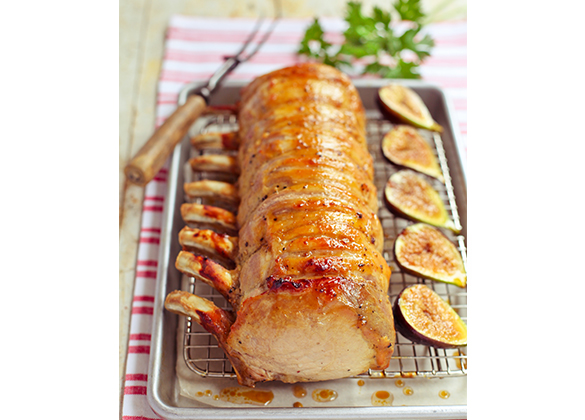 Ingredients :
60 ml (1/4 cup) Cataphard Orchards & Son inc. Apple syrup
45 ml (3 tbsp.) Dijon mustard
1 rack of pork, 1.2 kg (3 lbs)
15 ml (1 tbsp.) olive oil
To taste freshly ground "fleur de sel" and pepper
4 - 6 figs, cut in half
6 shallots, peeled and cut in half
60 ml (1/4 cup) traditional apple juice
60 ml (1/4 cup) Cataphard Orchards & Son inc. Apple syrup
To taste a few sprigs of fresh thyme
Method
1. Preheat the oven to 200°C (400°F).
2. With a sharp knife, trim fat on the top of the pork. Brush with oil. Season.
3. In a bowl, mix apple syrup and mustard. Spread half of the mixture on the pork.
4. In a roasting pan, pour apple juice and add fresh herbs to taste. Insert grill and add the roast.
5. Put roast in the oven and cook for 20 minutes at 200°C (400°F). Reduce heat to 180°C (350°F) for approximately 40 minutes, or the duration of cooking time according to weight (20 minutes per pound). Baste the roast with the mustard-apple syrup mixture twice during cooking.
6. Remove from oven. Tent with aluminum foil and let stand for 5 to 10 minutes.
7. During this time, heat 30 ml (2 tbsp.) of butter in a non-stick pan and sweat the shallots for 2 minutes.
8. Add figs and cook for 2 to 3 minutes. Deglaze the pan with apple syrup. Remove from heat.
9. Slice, serve and share the pork chops with cooking juices (from the bottom of the pan) accompanied by the figs in syrup.
Note :
• Delicious as leftovers when sliced thinly atop a salad, in an Asian soup, in a sandwich with garlic mayonnaise and arugula lettuce…
• Do not overcook the pork – it's better when it's pink!