Roast Duck Magret with Cranberry- Apple Syrup Sauce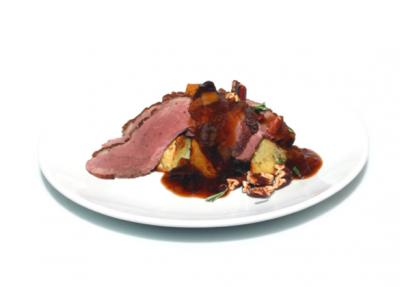 Ingredients :
2 Moulard duck breasts
1 shallot, finely chopped
45 ml (3 tbsp.) cider vinegar
60 ml (1/4 cup) Cataphard Orchards & Son inc. Apple syrup
45 ml (3 tbsp.) dried cranberries
½ apple, chopped into cubes
1 pinch ground cloves
1 pinch ground nutmeg
125 ml (1/2 cup) demi-glace sauce
To taste salt, pepper
Method
1. Preheat the oven to 180°C (350°F).
2. Using a sharp knife, score the fat on the top of the duck breasts on the diagonal, without cutting the meat.
3. In a frying pan over medium heat, add the duck breasts, skin side down, and let melt approximately half-way or until the skin becomes deep golden and crisp, occasionally pouring off accumulated drippings from pan.
4. Turn the duck breasts over and brown the meat side for 2 minutes.
5. Place pan in oven and cook for approximately 12 minutes (rare, or "pink", is recommended. When finished, transfer the meat to a platter, cover with foil and let rest for 5 minutes.
6. While the duck breasts are in the oven, make the sauce: in a small saucepan, add a bit of the accumulated duck fat drippings, add the shallot and let sweat for 2 minutes.
7. Add vinegar, Apple syrup, fruit and spices. Simmer until liquid is reduced to a syrupy consistency. Add the demi-glace and heat for 1 to 2 minutes. Season with salt and pepper as desired.
8. Thinly slice duck breasts length-wise. Serve with sauce and some roasted pecans. 
Note :
Serving suggestions: Duck fat roast potatoes with garlic and rosemary.
Green seasonal vegetables
Topping: roasted pecans