Turkey Bolognaise Sauce with White Wine and Apple Syrup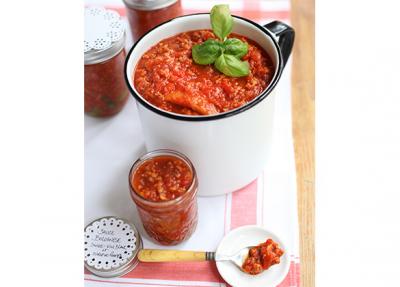 Ingredients :
45 ml (3 tbsp.) extra virgin olive oil
2 kg (4 lbs) ground turkey
3 very large red or Spanish onions, cut into small cubes
16 cloves garlic, finely minced
4 cans Italian tomatoes, 798 ml
500 ml (2 cups) white wine
80 ml (1/3 cup) Cataphard Orchards & Son inc. Apple syrup
6 - 8 leaves bay leaf
15 ml (1 tbsp.) dried oregano
15 ml (1 tbsp.) herbes de Provence
20 leaves fresh basil
15 ml (1 tbsp.) crushed chilli peppers
To taste freshly ground salt and pepper
Method
1. Season turkey with salt and pepper. Mix well.
2. In a large pot, heat oil. Brown turkey until redness disappears and all large pieces of meat have been separated. Remove from heat. Set aside.
3. Sauté onions and garlic in the cooking juices until slightly golden. Return meat to pot. Douse with wine and add tomatoes (crush them well with your hands). Mix.
4. Add remaining ingredients. Stir well and let simmer gently for approximately 2 hours.
5. Adjust seasoning as required.
6. Serve on durum pasta…delectable! 
Note :
• Apple syrup balances the acidity of the recipe while adding a subtly sweet and creamy taste to the sauce. It's a perfect combination!
• Excellent as a pizza sauce, in a hot sandwich or to accompany grilled meats.
• Freezes well. Practical for a quick supper – always have some on hand!