Turkey Millefeuilles with Spinach, Goat Cheese and Apple Syrup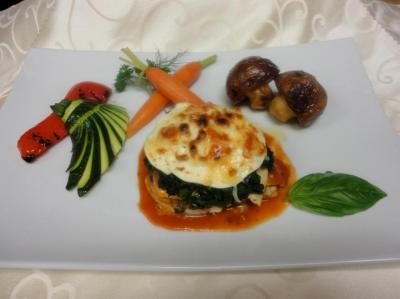 Ingredients :
700 g turkey breast
200 g fresh spinach
200 ml Cataphard orchards Apple Syrup
2 cloves of garlic
250 ml vegetable oil
2 tbsp. olive oil
500 ml cooked tomato sauce
100 g all-purpose flour
100 g Paillot goat cheese
Method
1. Mix tomato sauce and apple syrup.
2. In a saucepan, add olive oil and spinach. Season with salt and pepper to taste. Cook for 3 minutes.
3. Slice turkey breast, approximately 40 g each.
4. Lightly flatten slices with a meat mallet. Season with salt and pepper, then lightly coat with flour. Brown turkey slices in a saucepan with vegetable oil and cook thoroughly.
5. In a 2"-deep baking dish, add a layer of sauce then cover with cooked turkey slices, leaving a bit of space between each.
6. Add spinach to each slice, then a tablespoon of sauce. Repeat three times to create a layered effect.
7. To finish, add slices of Paillot goat cheese to each millefeuille.
8. Cover and bake at 190°C (375°F) for approximately 20 minutes.
9. Serve warm with vegetables or pasta.